Shares of European 2018 tech IPOs outperforming US   5:14 AM ET Tue, 4 Dec 2018 | 01:47
Europe's tech start-up scene is giving Silicon Valley a run for its money.
Europe is home to more than twice as many tech initial public offerings (IPOs) as the U.S. so far this year, while newly-listed European companies are outperforming their American counterparts, according to a report by venture capital firm Atomico.
The research, released Tuesday at the Slush tech conference in Helsinki, Finland, suggests investors could reap big returns from Europe's technology start-ups. Citing data from the London Stock Exchange, it found 69 tech companies have gone public in Europe so far this year, compared to 28 in the U.S.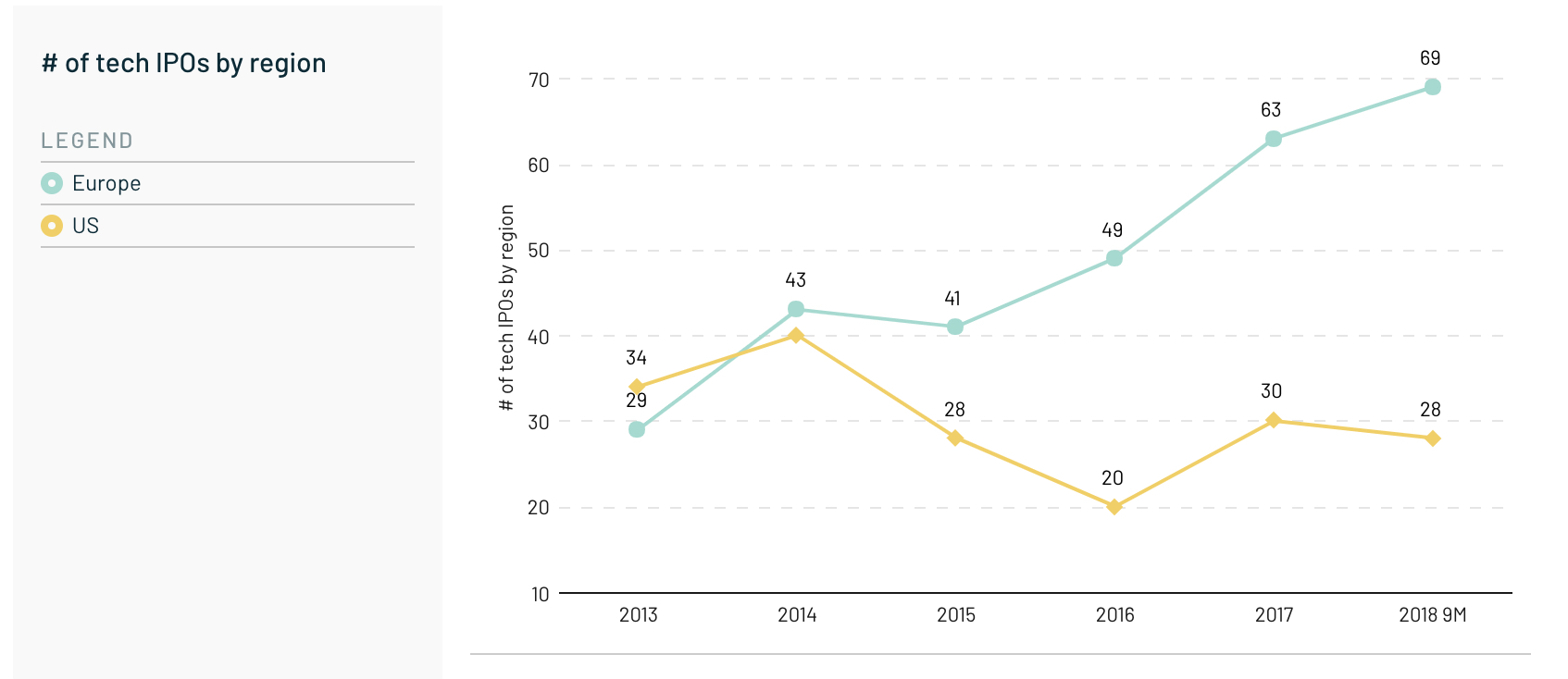 European tech companies that went public in 2018 saw their share price increase by an average of 222 percent. By contrast, U.S. tech IPOs had average gains of 42 percent.
"This year has been an incredible year for the European tech ecosystem," Tom Wehmeier, partner and head of research at Atomico who authored the report, told CNBC.
The fourth annual report surveyed 5,000 respondents across Europe. It said one reason the continent outpaces the U.S. in the tech IPO market is that European exchanges are more supportive of smaller companies that want to go public. Sixty-two out of Europe's 69 tech IPOs had a market cap below $1 billion.
European unicorns
The research also highlighted a growing number of European unicorns, or companies valued at more than $1 billion. Atomico reported 17 new unicorns in Europe this year, double the number added last year. Among them were U.K. fintech companies Revolut and Monzo and Estonian ride-hailing start-up Taxify.
What is fintech?   11:59 AM ET Thu, 7 June 2018 | 03:34
Wehmeier said Spotify's success put Europe's unicorns in the spotlight. The Stockholm-based music streaming company listed on the New York Stock Exchange in April for $26 billion, the largest direct listing on record. A direct listing meant Spotify did not need to seek underwriters for its IPO and a price was not set in advance.
Spotify shares have dropped around 6 percent since going public, but a majority of analysts maintain buy ratings on the stock, according to Thomson Reuters.
"There's a lot of talk sometimes that European founders can't compete on the global stage, and I think Spotify has shown that… you can still come out on top if you start from the outset thinking big," Wehmeier said.
["source=cnbc"]