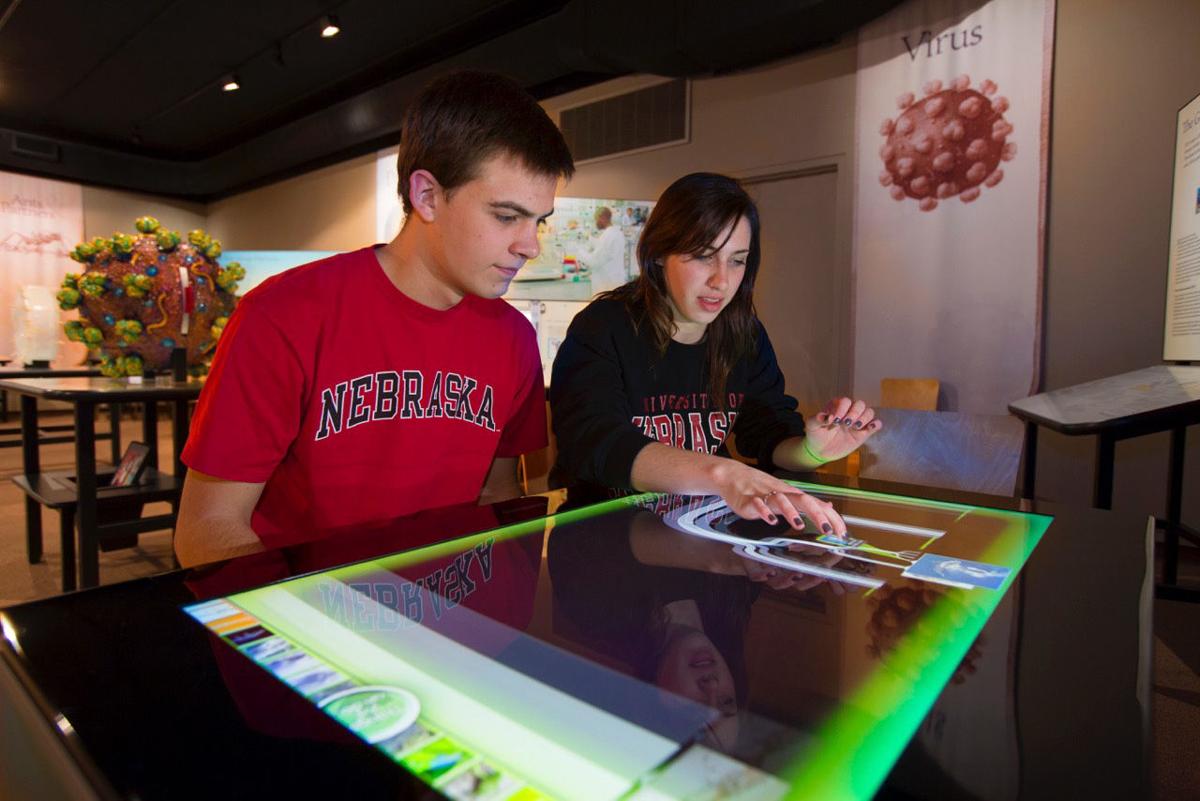 In life, everything is related. Plants are related to animals; animals are related to bacteria; bacteria is related to plants and so on, said professor and University of Nebraska State Museum curator Judy Diamond. But with as many species as there are on Earth, finding a way to analyze that much data is difficult to do in an intriguing, simplistic way. That is where the Tree of Life comes in.
"The Tree of Life is really all of the ways that through evolution all of the living things are related to each other," Diamond said. "That's all of life. This little tree represents hundreds of thousands of organisms, every living thing, plants, animals and bacteria."
The "little tree" Diamond refers to is part of a software program developed to organize and explain how different species have evolved and are related and how branches within species are formed. Located in the University of Nebraska State Museum, visitors are able to use a touch table, similar to an iPad, to zoom in and zoom out on different parts of the Tree of Life.
The Tree of Life was introduced in 2014 to four different museums: the California Academy of Sciences, the Field Museum of Natural History, the Harvard Museum of Natural History and the University of Nebraska State Museum. Now, it is in museums all over the country and in other parts of the world.
According to Diamond, the idea originated from a conversation she had with Chia Shen, a researcher from Harvard. They received a $2.3 million grant from the National Science Foundation in October 2010.
"This is really an exhibit about how evolution works and the idea is that you're not just being taught stuff, you get to play with it," Diamond said. "It's trying to make visual and with touch something that's really hard to understand."
Diamond explained this program is beneficial because it helps visitors understand evolution in an easy and exciting way.
"People could take several biology courses and still not really get all those different branches or even how you get people and that we're all related," Diamond said.
Since 2014, biology professor Chad Brassil has incorporated the Tree of Life software into his Life 121 lab class. He brought in a second touch table and was able to get the Tree of Life software along with another software he helped develop called Gene Flow.
Gene Flow helps students to look at the evolution of a population over time through red, blue and purple dots. It allows students to look at the genotype of each dot, change the population size and manipulate different features of the population. Gene Flow was created specifically for a classroom setting, Brassil said.
"It's less engaging," Brassil said. "It's more like you have to care about [what] the color of the dot is whereas the Tree of Life one is more like you have to engage viewers just walking by in a museum."
The Tree of Life has a mindset of informal education, Brassil said. If a fourth grader were to walk up to it, he or she would be able to understand the concept. Looking at it as a college student, participants are able to identify the differences of the programs.
"[The Tree of Life] asks you to think if is this a good analogy or a poor analogy," Brassil said. "In what ways does this represent the real ways speciation happens? What has been missed? So students try to think a little bigger than that program because they know more than the program."
Recently, Brassil has been able to order three more touch tables for the class to allow more students to participate and work together.
"It's a big table rather than sitting around and working on a computer screen," Brassil said. "You can actually move around it and it invites collaboration among students. We have them working in groups around the table so they are working together on this thing."
Both Brassil and Diamond reported UNL is one of the only universities to incorporate this device into classrooms. The Tree of Life and Gene Flow softwares have helped students be able to apply what they have learned in class and from the textbook.
"The Tree of Life was designed to engage a casual person so it's fun," Brassil said. "It's always great to have an assignment that's fun to do. The way that we ask them to interact with it is both to have fun but to also step back and think about it critically."
[Source:-dailynebraskan]